---
Homer Simpson is Canadian!
---
Simpsons creator says Homer is Canadian
Canadian Press
Date: Sat. Jul. 20 2002 9:49 AM ET
MONTREAL — D'oh Canada! The secret's out! Homer Simpson is . . . a Canadian. But - ay caramba - Matt Groening, his creator, hopes we won't have a cow about it. Many Canucks know about Superman's half-Canadian heritage - he was co-created by Torontonian Joe Shuster - but little has been mentioned about the ancestry of Springfield's favourite son, even when The Simpsons set part of an episode last season in Toronto.
In Montreal for a performance of The Simpsons - In the Flesh stage show at the Just for Laughs comedy festival, Groening noted Thursday his dad was born in Canada and Homer is named for him so . . . .
"That would make Homer Simpson a Canadian," Groening said in an interview. "I hope Canadians won't hold it against the show now that they know.
"We were counting on Canadians feeling superior to the Simpsons as being doltish Americans but now the secret is out."
But the Los Angeles-based Groening is not sure exactly where the birth took place.
"Uh, if you went straight north from Kansas, where would that be? Winnipeg? Yes, Winnipeg!"
Groening shouldn't doubt that pride will swell Canadians up like Homer on a doughnut binge. The top-rated cartoon show, which is now in production for its 14th season, is seen in first-run episodes on Global and Fox and in syndication several times a day on most other networks available in Canada.
It is broadcast in more than 60 countries and is a coveted venue for guest stars ranging from George Harrison to U.S. poet laureate Robert Pinsky.
The Montreal stage shows, to be presented Friday and Saturday, feature the entire cast - except Julie Kavner as Marge, who couldn't attend - doing a reading of some favourite episodes.
The TV show has had its share of controversy. Former U.S. president George Bush criticized the Simpsons' family values - which got him lampooned on one episode. Others said it is a bad influence on their kids.
But Dan Castellaneta, who provides the voice of Homer, said the show is better than some think.
"It's funny, it's entertaining and I think it's intellectually stimulating, especially some of the references Lisa makes," he said, referring to the clan's brainy daughter.
"I think some people don't want their kids watching the show because they have to answer a lot of questions."
Both Groening and executive producer Al Jean - who announced his grandfather was born near Montreal - said the show's continued success is due to close collaboration between the writers, animators and actors.
"We try to make every episode like a little movie, a little spectacle," Jean said.
But for a show known for its cutting pop culture references, the Simpsons doesn't rely on topical humour to stay fresh because shows are done six months in advance.
Jean noted one idea that was floated last year concerned President George W. Bush coming to take revenge on Homer for an earlier episode where he drove the senior Bush nuts when he moved in next door.
"Right after the show was pitched, 9-11 happened," Jean said, adding that it was shelved because some felt it might be inappropriate to spoof Bush at the time.
"We try to do things that will sustain 10 years, 20 years from now," he said.
Added Groening: "We're just afraid (George Bush) won't be in office by the time the show gets on the air, considering the problems he's having."
Groening said the toughest episode to make was the pilot, which had to be redone because it was feared the poor quality of the animation would lead Fox TV boss Rupert Murdoch to take a pass when he saw it.
While he was confident in the concept, Groening acknowledged that he didn't expect such wild success.
"I didn't think we'd be on the air this long," he said.
He wouldn't speculate as to when the show might end its run.
"The show will go on forever," he joked, noting that he'd gotten in trouble in an earlier interview when it was reported he'd suggested the show was winding up. "No, we're going to be on for at least another 14 years."
Castellaneta added: "Even if the show went off the air, I think the characters would go on in perpetuity, there'd be specials, movies, spin-off shows."
Groening said he is a big fan of some of the new animated movies that have come out and said that one day the Simpsons could follow predecessors like the Flintstones, Scooby Doo and the Jetsons to the big screen.
But a big-screen project would only happen if it did justice to the characters, say Simpsons creators.
"We don't want to rush it out just to capitalize on the show," Jean said. "It wouldn't be good for anybody."
Groening has another reason too.
"I can't tell you how much fun it is to make the Fox executives sweat."
---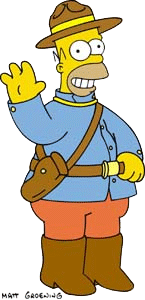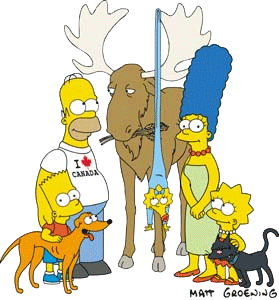 "Why leave America for America Junior?"
--- Homer Simpson
---
---